Why Shop Wheaton?
At Wheaton Chevrolet in Saskatchewan, we are committed to being the best selling GM dealership, and ensuring that we have the lowest prices in town is the best way to do that. Our extensive
new inventory
is ready for you to browse at a moment's notice!
As our customer, you are able to get in touch with us via any method you choose. Text Message, FB Messenger, Live Chat from our website, phone call, drop ins, or simply fill out an online form and you'll have your needs met and questions answered in no time flat. We want to make it as easy as possible to get the information you need to make a purchasing decision or to proceed with maintenance work.
When you bring your vehicle in to our
service department
, we understand that your busy schedule may not allow you to sit and wait for your service to be done. Our Chevrolet dealership offers a couple different ways to get you around the city while we work on your vehicle. A shuttle driver can take you wherever you want to go (within city limits) and come pick you up when your vehicle is ready. If your work is going to take a bit longer OR you just have too many places to be on that day we also offer loaner vehicles for you to use like it's your own as long as required.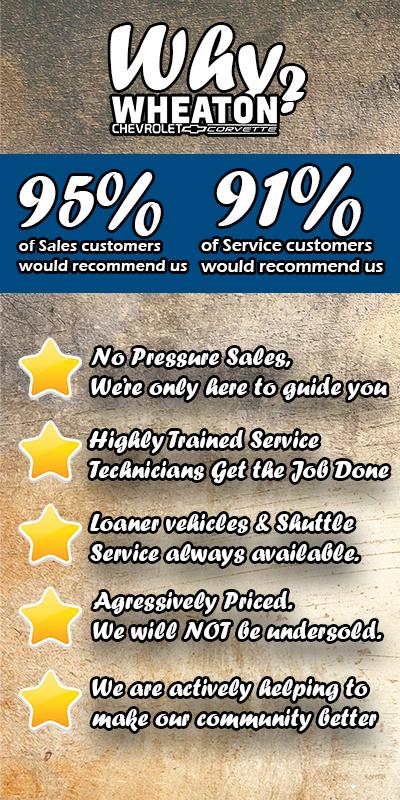 Find Your Next Chevrolet At Wheaton Chevrolet in Saskatchewan
Here at Wheaton Chevrolet, we like to think of ourselves as much more than a car dealership. Aside from providing you with your next daily driver, we raise money and awareness for worthy charitable causes in our community. We are so proud to be a part of this amazing community, and giving back is the very least we could do!

If you'd like to find your perfect Chevrolet vehicle, schedule a service appointment, or have any questions, don't hesitate to
contact us
at our Saskatchewan Chevrolet dealership today.
The Biggest Reason to shop at Wheaton Chevrolet